Recently we've been having problems streaming stuff on NetFlix and other sites. With Netflix it seemed like we could watch most of a show and then it would freeze with about 5 minutes left to go!! We spent the better part of a week trying to watch an episode of Inspector Lewis on PBS. It would play for awhile and then freeze and start to buffer. We tried various things to get it to stream, would pause it, sometimes we would back it up a minute or so in the hopes that it would continue. Usually it would play up to the point where it froze and freeze again. In trying for 4 nights we managed to get about half way thru the episode.
Occasionally we would get a pop-up saying "Internet connectivity problem." I called tech support at the phone company that provides the Internet. The guy had me hook up the laptop directly to the DSL modem and it still had the problem. Could hear the audio stopping and starting as I tried to play a video. That eliminated the router as the problem. Was wondering if it might be the laptop as it is 6 years since I bought it and it was a refurbished one at that. Borrowed another computer and it worked fine. Tried the laptop again in case the phone company had fixed the problem. Laptop still wasn't working right.
Then I thought maybe the dongle plugged into one of the USB ports might have something to do with the problem. Unplugged it and it seemed to play normally. Then The Old Lady said, "I wonder if the battery is going dead in the wireless mouse?" The wireless mouse is what the dongle is for. Anywho, I replaced the battery in the mouse and plugged the dongle back in while the laptop was playing the episode we had so much trouble trying to watch. It continued to play normally and last night we watched several things on NetFlix with no problem.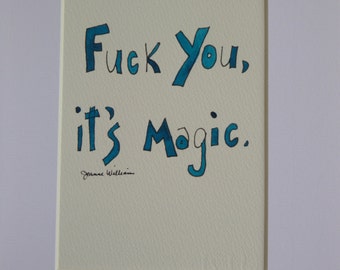 What I can't figure out is how the hell a weak battery in a wireless mouse could affect the streaming of stuff from the intratubes??? Like I said in the title of this post,
"ELECTRONICS ARE FM, FUCKING MAGIC!!!